THE EARLY HEMI !

---
History
The Chrysler, Dodge and DeSoto hemi engines owe their existance to the simple fact that the automobiles they powered were very, very heavy! As the demand for larger and more luxurious cars increased the designers were often at odds with the engineers over power to weight ratios. Its a simple matter of physics that as weight increases performance goes down. Customers wanted the "best of both worlds" so the engine department of the Chrysler Corporation had a new challenge to meet.
The logical way to increase performance is to raise the compression ratio and make the engine "breathe" better by increasing the ammount of air and fuel it can "inhale". The only problem was by raising compression ratios, you increase the chance of detonation or "pinging". This can be very detrimental to the life of a engine.
The solution the engineers came up with was not a new idea. In fact it was a old one. Hemispherical combustion chambers. The reason it was not utilized in mass production earlier was the technology did not exist before to produce such a complex casting as the "hemi" head required. This type of combustion chamber design is like half of a sphere with a valve on either side. This allows for greater thermal and volumetric efficiency. In other words, it lets a greater amount of air and fuel into and out of the cylinder. With this design the engineers were able to utilize bigger camshaft profiles thus increasing horse power with out having to increase compression ratios.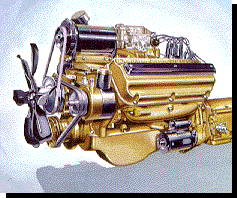 ---
The Engines
Chrysler as well as Dodge and DeSoto produced hemi engines. Plymouth was left out of this program as it was the "lower end" of the cost scale. Here's a breakdown of Hemi engine sizes and performance figures:
only the highest performance versions of each engine type are listed...lower performance versions of each were available.
Chrysler FIREPOWER
| year | cu in disp. | horsepower |
| --- | --- | --- |
| 1951 | 331 | 180 |
| 1957 | 354 | 300 |
| 1958 | 392 | 390 |
Dodge RED RAM
| year | cu in disp. | horsepower |
| --- | --- | --- |
| 1953 | 241 | 140 |
| 1955 | 270 | 195 |
| 1956 | 315 | 260 |
| 1957 | 325 | 310 |
DeSoto FIREDOME
| year | cu in disp. | horsepower |
| --- | --- | --- |
These engines were NOT designed for all out performance. They were intended to propell very large and heavy automobiles. They did this quite well, but, their REAL place in history was yet to be played out. The era of the fuel dragster would etch the name HEMI in the history books forever!



ON TO THE FUEL DRAGSTERS